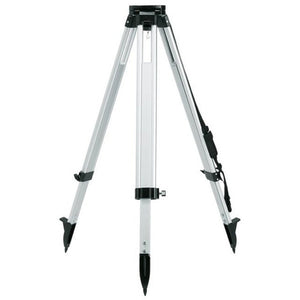 This durable top of the line dome top tripod ensures easy setup for small level tolerances. Heavy duty to extend your tools line of site well over most obstacles. It's lightweight enough to allow the shoulder strap to not burden you as you move from job site to job site. This model also features a strap to secure the legs together while on the go. The domed top of the tripod allows you to easily find the auto leveling tolerance of your equipped tool. It transports collapsed at only 3.6 ft and extends to 5.2 ft, while maintaining its sturdiness.
It's easy to boast the benifits of this sturdy, lightweight, versitile tripod. We use this tripod frequently when scanning in the field with the Leica 3D DISTO, and it has quickly become my favorite tripod.
Large tripod to be used with Leica DISTO S910 with FTA 360-S tripod adapter OR Leica 3D Disto with 5/8" thread adapter.
Lightweight aluminum construction
1/4" mounting screw to suit DISTO system
Adjustable length legs
Quick-clamp leg-locks
Package includes accompanying carry bag